General information about POLYKUM e. V.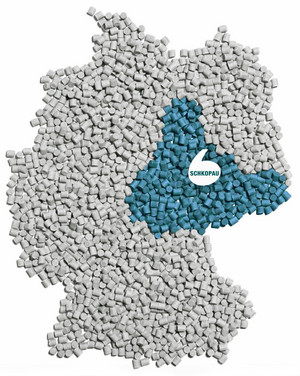 The "Association for the Promotion of Polymer Development and Plastics Technology - POLYKUM e. V." is a cooperation network of plastics manufacturers and processors, mechanical engineers, research institutions, universities, service providers and business-related institutions. The non-profit association was founded in 2002 and is based in Merseburg, the heart of the Central German "Chemical Triangle" - an innovation location with a long chemical and plastics technology tradition. The association now includes members from important plastics regions in Germany - and increasingly also foreign companies and institutions.
POLYKUM e.V. currently has around 50 members. They blieve that their common task is in promoting the transfer of knowledge, innovation and technology, in securing skilled workers and in interdisciplinary cooperation along the value chain from the raw material to the final product. The association has made it its task to pave the way for new, environmentally friendly plastics and plastic products in particular. POLYKUM supports its members, for example, with communication services, events and support in the initiation of research and innovation projects. There are several partnerships with networks in Germany and abroad, such as with BioEconomy e.V. or with the Indian branch association AIPMA. In addition, POLYKUM e.V. enjoys an excellent reputation as a competent partner for politicians, media representatives and institutions.
Since 2010, the topic of bioplastics has been a special focus of the association's work. With the "BIOPOLYMER - Processing & Moulding" congress, which has been held annually since 2018, POLYKUM offers an international industry get-together for processors and users of bio-based, biodegradable plastics with participants from up to 45 countries. In addition, the association annually announces the international "BIOPOLYMER Innovation Award", which has already been awarded to prizewinners from Finland, Italy, Brazil, Belgium and Germany since 2019.
The objectives of POLYKUM e.V.
The improvement of cooperation between industrial and scientific entities as well as between companies within the value chain.
The transfer of knowledge, innovations and technologies.
Promotion of environmentally friendly materials and concepts of POLYKUM members.
Communicating innovations between members.
Support in partner search and project initiation.
Support in securing young talent from skilled workers to engineers.
Create opportunities for possible contacts to partner networks in Germany, Europe and worldwide.